This game of golf is good! Otherwise, why would more than 26 million Americans and large numbers in other countries around the world pursue it with such passion? Golf is played outdoors on green grass with friends, family members, strangers just met and alone. It's mild exercise yet an invigorating experience that can either be done in intense competition or leisurely enjoyment. But golf is not perfect.

One drawback is that in an individual's early stages of the game, because of the complexity of learning the golf swing and difficulty of some courses, many quit before they become very accomplished. Baseball is also demanding. That's one reason softball is much more popular as a participation sport than baseball. Cayman golf is somewhat like softball in providing most of the benefits of golf without some of its drawbacks.
In the 1930s William H. Diddel, a golf course architect in Indianapolis, first conceived of a golf-like game to make starting golf easier and to shrink the size of courses. Unfortunately Mr. Diddel was never able to obtain a reduced-distance ball which performed satisfactorily. In the 1980s pro golfer Jack Nicklaus asked the MacGregor Golf Company to develop a ball for an small course his design company was laying out on Grand Cayman Island. Troy Puckett, then MacGregor's top golf equipment engineer, produced a suitable ball composed mainly of DuPont's Surlyn. Mr. Puckett has further improved that ball and his company now manufactures it as The Cayman ball. These balls can be purchased from the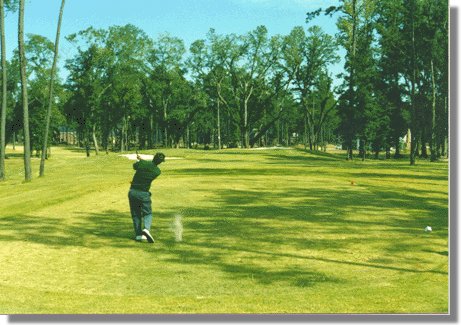 Cayman Golf Company
P.O. Box 5287
Albany, Georgia 31706
USA, phones
(912) 883-5017 or
1 800 344-0220
or fax (912) 883-4825
e-mail info@caymangolf.com
Web site
The Cayman ball is the same size as a golf ball. Instead of dimples it has a brambled surface and weighs 24 grams, compared to the approximately 45 grams of a golf ball. Together these restrict its distance to only slightly more than half the distance of a golf ball with a fast swing and a greater percentage with a slower swing. Its lightness also permits beginners to easily get this ball airborne and prevents miss hits from ever stinging their hands, common drawbacks to these players with a golf ball.
Cayman golf is more readily accepted by those who have never played golf, particularly juniors. To these people this game has several additional advantages over golf. Cayman courses have much lower fees and are a shorter walk. At first a conventional golf course can seem a hostile place, because of the attitude of many experienced golfers there. A round of cayman golf takes much less time to complete, critical to anyone short on free time or initially with a limited span of concentration or interest.
Seven or eight club are adequate for a cayman player versus the standard 14 clubs in a golf set, further reducing beginning costs. Learners frequently hit off-line shots, but being struck by an errant cayman ball is unlikely to injure anyone. A softball is also less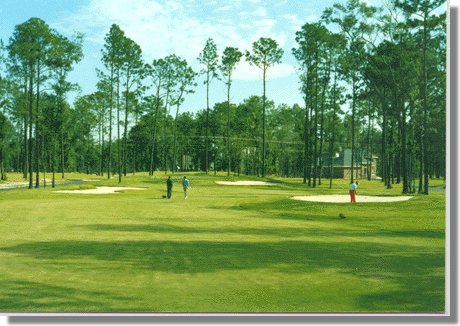 dangerous than a baseball, another similarity of these games.
A cayman course offers several large pluses to developers over a traditional 18-hole golf course. There is the savings in land and cayman courses cost much less to construct or maintain. Since most cayman players have little exposure to the fine turfgrass at country clubs with high-priced dues, upscale public courses or championship resort courses, the intense level of maintenance for the smaller cayman course is not so expected. These combine to mean much lower amounts of fertilizer, chemicals and water required, lessening these courses' impact on the surrounding environment and decreasing their non-renewable energy use.
To date a majority of cayman ball sales have been to schools and colleges for teaching golf on athletic fields and within gymnasiums during bad weather. Teachers say this works great and is safer to students.
I designed the first 18-hole cayman course in the USA, Eagle Landing Golf Course. Now there are cayman courses in England and Japan. Currently I am designing a cayman course under The First Tee program, mainly for kids who would have little chance of getting on a regular golf course. When young people are not using this course, it will be available to adults for a small fee. This 17-acre facility will have nine holes with a par of 36 and a cayman range. Plans are to light it for evening play.
Cayman courses within urban areas, in the suburbs and at resorts can either be by themselves or with a traditional-sized golf course. Like for big courses, for best results cayman courses should be properly designed, constructed, maintained, operated and marketed. These modified golf courses at first may mainly attract young people, anyone who wants to learn to play golf,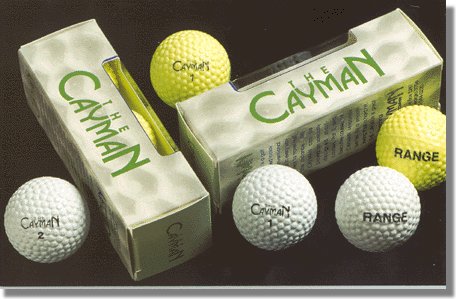 families playing together, many women, older seniors and disabled persons. When the joy and ease of cayman golf becomes more widely known, some people who can afford and are capable of effectively playing traditional golf should at times play cayman courses.
Cayman balls float on water hazards and streams. Some excellent cayman courses could put this game "afloat" in our mainstream of recreational activities.