Based on Bill Amick's article "More affordable golf courses in the twenty-first century" in the book, Golf Architecture, compiled and edited by Paul Daley.
Golf can be fun and it can be fascinating. It should also be affordable. Affordability, however, is relative and when applied to golf is more than just a pocketbook matter. It also means having enough time to play and an individual being able to cope with the challenges of the game. Aspects of affordability are strongly influenced by the golf courses played. In the years ahead, will more or fewer people wanting to play golf be able and feel encouraged to do so?
Fees at some courses today bar individuals, couples and families from taking up golf, sticking with it or playing as often as they would like. How long it takes to complete a round can push away time-pinched workers and parents. Also discouraged can be the impatient. For beginners and even those who've been playing awhile, the game is tough for gaining competency. Many beginners and even highly dedicated golfers quit, especially if the golf holes seem overly demanding to them. This is the intimidation factor of golf. Occasional pars are more motivating than mostly triple bogeys. Golfers who have the time, a sufficient level of skill and enough money believe golf is great. And to them it is. But in the 21st century will the current circumstance of such demands continue to turn away large numbers of potential players?
One obstruction to beginners sticking to the game is the dominance of "championship" courses with a par of around 72. These are the courses seen on TV for professional tournaments, pictured in publications and ranked as the top courses. They require 150 to 180 acres (60 to 72 hectares) that must forever be fertilized, spayed, mowed, aerated and all the rest in their maintenance. And enough water is necessary each season for irrigating the main grassed portions. Most of these courses are meticulously manicured, not especially for enhancing their playing quality, but for the sake of appearance. Property taxes are paid annually on all that land and improvements. The bottom line is obvious: a lot of money is required for creating and keeping these big courses, money raised from its players. This is fine for those who can afford that expense, the time for a round and the fortunate ones with the talent to handle the challenge of these traditional par-72 courses.
Wouldn't it be wonderful if in the future there were enough other types of golf courses which do not present those affordability hurdles faced with par-72 courses? As a golf course architect I constantly look for ways of designing more affordable courses, yet still providing most of the benefits of those expensive layouts. Like one model for all car buyers, one kind of golf course cannot be expected right for all golfers and situations. Other than the upscale par-72 course, below I outline several golf course models. Each would save on the initial construction cost leading toward lower playing fees. Each model would reduce playing time for rounds and be designed to better match the limited skill level of a greater number of golfers than the fancy courses do. Some of these models are familiar and some are brand new. On all but one today's playing equipment would be used. The final one mentioned requires fewer clubs, a different ball that has been on the market since 1985 and some modification of the rules due to the equipment. Because of their real cost-saving advantages, in the future I believe these models should receive consideration in the development of our new courses.
THE PUBLIC COURSE MODEL
The majority of courses opened in the 1990s and continuing into the very early 21st century have been par-72 types less affordable to many golfers and potential golfers. A way to make a new course less expensive is simple, because many public courses have been this type for a couple of centuries. These courses are not so trendy and spectacular-looking. They are relatively short, easy to play, plainly constructed and not so intensively maintained. They have lower green fees, are faster to play unless crowded and not so discouraging to golfers lacking high playing skills. These 18 hole courses can truly be termed more affordable.
THE NINE-HOLE MODEL
Much the same can be said about nine-hole courses with a total par of around 36. Lots of these exist in rural areas and near small towns. A widespread prejudice is that a nine-hole course is not a legitimate golf course to be built in urban and suburban areas even though available land in those locations is usually scarce and expensive. Naturally these are where most of the population lives. Nine-hole courses could help more people there find an acceptable home course. Properly positioned pairs of tee markers and two cups per green with separately colored flags for each nine adds interest to a second round at these courses.
THE SMALLER SECOND COURSE MODEL
A smaller golf course along side a par-72 course is an established concept and the two courses can compliment each other nicely. This arrangement has been done more frequently in Europe than in the U.S. The smaller course are labeled an executive, par-3 or pitch and putt course. They can have 18, nine or fewer holes. Pebble Beach has a pitch and putt named the Peter Hay Course. Augusta National has its nine-hole Par-3 and Pine Valley a Short Course. These three indicate the appeal of a brother or sister course alongside a famous course. In these instances saving money was probably not a motivating factor in the smaller course. In Scotland some high-profile courses have a wee links, including Turnberry, Gleneagles and North Berwick. The latter opened its Children's Course in 1888. At those and others in the birthplace of golf, reduced playing difficulty allowing for quicker rounds and taking a limited amount of land may have been the main reasons for those adding such courses. Second courses can be looked upon as what beginner's slopes or trails are for starting skiers. According to the National Golf Foundation, shorter courses in all kinds of situations are so popular in Florida that they comprise close to 19% of that State's more than 1,260 total courses.
An accompanying course puts less demands on its users than does the bigger course. This instantly liked by beginners, families with children not ready for a longer course and a number of other short hitters. The concept is also attractive when utilized as a facility for experienced golfers wanting to practice their short game, while waiting for a tee time on the longer course, for golf teachers giving on-course instruction, persons with a disability and for anyone who wants to walk but is not allowed to on the main course. A smaller course simply provides a variety of golfers an alternative and at a relatively low cost by a course owner or developer. A second course is often put on unused land and maintained with little extra equipment and personnel. Usually no additional buildings or parking area are required. A second course is something like adding an extra room or porch to a house. At a membership club an accompanying course could even be open to the public for its extra revenue or as a service to the surrounding community.
THE COMPACT COURSE MODEL
Many touring men pros regularly boom their tee shots over 300 yards (275 meters), which to them has turned traditional par 4 holes into a drive and short iron approach shot. With modern high-tech balls and clubs they typically reach nearly all par 5 holes in two, sometimes using a middle-iron for their second shot. Par 5s take the most land, are costliest and most inefficient in playing time of the three kinds of holes. Today to these players putting the former challenge back into par-72 courses would require much longer holes than in the past, probably amounting to a total of more than 8,000 yards (over 7300 meters). Doing that would mean more land, further increasing their construction and maintenance costs, plus increasing the playing time of a round even more. These are not in the interest of golf for any level of player. The golf ball could be reduced in length somewhat, restoring our classic courses to their original difficulty and thus eliminating the need for new courses to be ever longer. However, the ruling bodies of golf do not seem inclined to do this in the near future.
Courses of a different configuration or composition of holes could match up the current ability of the top performers along with that of low, middle and high handicap amateurs, without having to change any equipment, rules or procedures. Holes could fit the distance for each golfer's length and all golfers would use approximately the same clubs on each hole. This would be accomplished by a mix of holes and multiple tees placed to accommodate the vast difference in hitting distance of golfers. Then at the beginning of their round each golfer would only need to select the markers suited to their game.
Other than tradition, there is nothing sacred or magical about the composition of holes that produces a round with a par of around 72 from 18 holes. A "compact" course model would have a suitable mix of par 4 and par 3 holes, while also reducing the number of holes. Not only do par 5 holes each take far more land, but they are the hardest at locating tees to be equitable to all kinds of golfers. Compact courses could be put on smaller parcels of land, have fewer expensive greens to construct and maintain, with smaller fairway areas and be faster to play. A driver could still be hit six times during a round. Compact courses could actually give a more uniform distribution of clubs used by all golfers, instead of simply paying lip service to this cliché. Significantly less time would be consumed by a round, shortened even more because there would be no stopping at a "turn" for refreshments. The entire reduction could better fit the concentration span and energy limits of many weekend golfers. If anyone wanted more golf per day, they would go play another 12-hole round. As for all courses, principles of good design should be followed in routing and designing the individual holes of compact courses.
A scorecard of a hypothetical compact course is shown below. For simplicity's sake only three sets of tee markers are given here. For an actual course other sets of markers would provide for a greater range of golfers. Markers 'A" are based on golfers who hit their driver approximately 250 yards (229 meters), 'B' 225 yards (206 meters) and 'C' 175 yards (160 meters).
ILLUSTRATIVE COMPACT COURSE SCORECARD
Yards given first. (Meters in parentheses.)
Hole Par A B C Club(s) Typically Required
1 3 104 (95) 93 (85) 73 (67) Pitching Wedge
2 4 403 (369) 362 (331) 282 (258) Driver+7 Iron
3 3 186 (170) 168 (154) 130 (119) 4 Iron
4 4 470 (430) 423 (387) 329 (301) Driver+5 Fairwaymetal
5 3 141 (129) 127 (116) 99 (91) 8 Iron
6 4 425 (389) 383 (350) 298 (272) Driver+5 Iron
7 3 231 (211) 208 (190) 162 (148) 3 Fairwaymetal
8 4 328 (300) 295 (270) 229 (209) Driver+Sand Wedge
9 3 209 (191) 188 (172) 146 (134) 2 Iron/7 Fairwaymetal
10 4 380 (347) 342 (313) 266 (243) Driver+9 Iron
11 3 164 (150) 147 (134) 115 (105) 6 Iron
12 4 448 (410) 403 (369) 313 (286) Driver+3 Iron/9 Fairwaymetal
Totals 42 3,489 (3191) 3,139 (2871) 2,442 (2233)
THE CAYMAN BALL COURSE MODEL
"Cayman" courses are played with the distance-limited Cayman ball. Beginners and not-so-skilled golfers find the Cayman ball easier to get airborne, overcoming a common problem experienced by many novices. The Cayman ball still requires most of what else is involved in playing effectively with a golf ball and has satisfactory flight characteristics except into a strong wind. Not only is cayman golf a neat way for someone to learn what golf is about, but existing golfers can find personal and competitive pleasure playing it. Golfers must remember that all other participants are similarly restricted in their distance and the ball will not give exactly the same feel as they are accustomed to. It has been proven by experienced golfers that playing the Cayman ball does not ruin their regular golf game, so that excuse against trying it is not valid. Golf always requires constant adjustments and judgments.
Because of its lightness, the Cayman ball is safe to both nearby people and property as contrasted to errant shots with the heavier and faster-flying golf ball. Because of this and the limited-flight of the Cayman ball, cayman holes can be not only shorter and narrower but closer together than conventional golf holes. Combined these make cayman courses tiny in comparison to conventional golf courses. Since everything is scaled down, cayman courses are also considerably easier to fit on odd-shaped properties or unusual contours. Greatly reduced land requirement, construction cost and area to be maintained are affordable advantages of this enjoyable golf-like game also played on grass. The following chart show something of what a cayman course scorecard could look like.
ILLUSTRATIVE CAYMAN COURSE SCORECARD
Yards given first. (Meters in parentheses.)
Hole Par A B C Club(s) Typically Required
1 3 62 (57) 58 (53) 53 (48) Wedge
2 4 232 (212) 218 (199) 199 (182) Driver+7 Iron
3 3 114 (104) 107 (98) 98 (90) 3 Iron
4 4 220 (201) 207 (189) 189 (173) Driver+9 Iron
5 3 92 (85) 86 (79) 79 (72) 7 Iron
6 4 268 (245) 252 (230) 230 (210) Driver+3 Fairwaymetal
7 3 103 (94) 97 (89) 89 (81) 5 Iron
8 4 202 (185) 190 (174) 173 (158) Driver+Wedge
9 3 80 (73) 75 (70) 69 (63) 9 Iron
10 4 254 (232) 239 (219) 218 (199) Driver+3 Iron
11 3 128 (117) 120 (110) 110 (101) 3 Fairwaymetal
12 4 243 (222) 229 (209) 209 (191) Driver+5 Iron
Totals 42 1,998 (1827) 1,878 (1719) 1,716 (1568)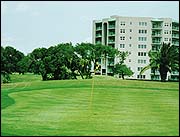 Due to the Cayman ball's lightness, Cayman courses can be built close to hotels, apartments and houses.
AFFORDABLE ALTERNATIVE COURSES FOR TOMORROW
Not everyone can afford the sit-down time, menu prices and has cultivated a taste for noted French cuisine. Not even connoisseurs want to dine in a fine restaurant every meal. Neither does one size golf course fit all golfers. The traditional par-72 course will remain the standard membership, upscale daily fee and resort model in the foreseeable future. However, other models do exist to better satisfy the true needs of lots of golfers. That market includes young people without a large amount of money for recreation, families wanting to play golf with their children, anyone of any age just coming into the game, active retirees on a limited income, busy folks short of time but still desiring healthful outdoor recreation, league players, occasional golfers on vacation or in an event at a convention and students learning golf in school. There will be a bunch of golfer candidates who for whatever reason aren't comfortable at costly par-72 courses. Alternative models can furnish many golfers plenty of enjoyment in the years to come!